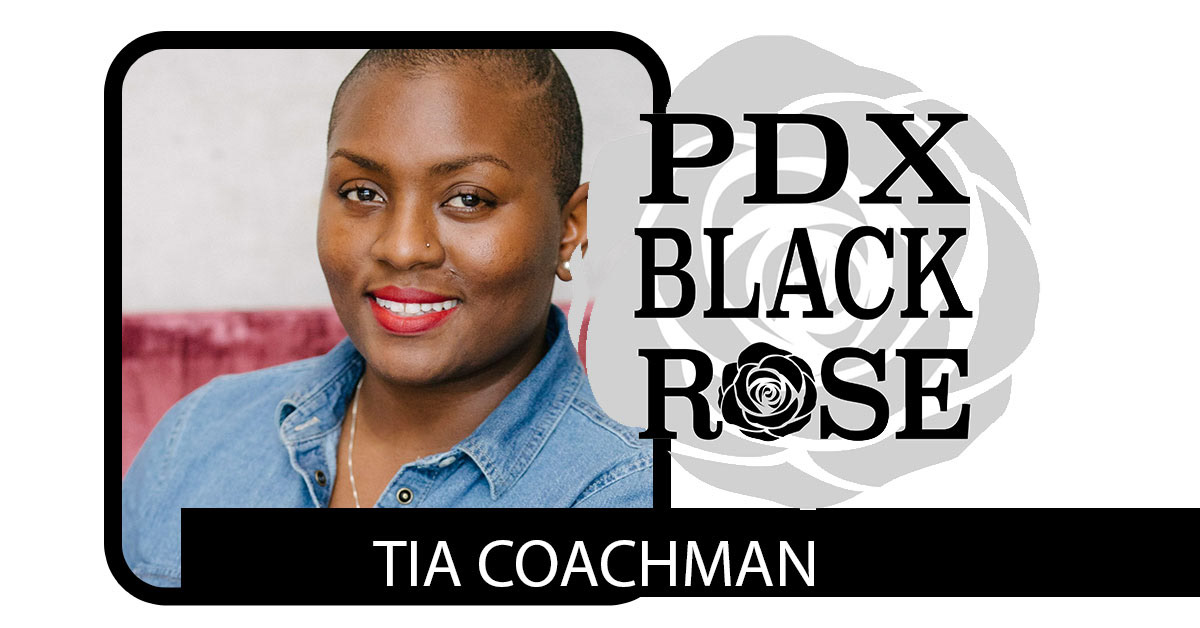 Tia B. Coachman describes herself as "that cool Aunty mothers go to for guidance and help." Coachman, a Strategic HR Partner for different companies (the mothers), helps these mothers get their house in order as it relates to the people that work for them.She makes sure the workplace is a safe space and there exists an even exchange for both employee and employer. That means working with companies and organizations that may not have an HR department, haven't thought about diversity and equity, just need to bounce ideas off of someone or need to get a plan together for their employees when things like the Coronavirus hit.Coachman wears a lot of hats and after just a few sentences from her, you quickly come to understand how this short, bald, dark skin queen does it all! Coachman is an idea and implementation woman that knows that she knows what she's talking about. But in her words, it was a journey to get to that knowing. Check out Coachman's inspiring interview right here!

Tia's consultation is centered on strategic HR partnership, talent management, equity, diversity, and inclusion initiatives, policy development, and facilitating internal organizational change. She has over 15 years of experience partnering with C-Suite and Senior Executives, ExecutiveDirectors, and Boards in various industries such as federal and district government, non-profit, advertising, media, and hospitality.Aside from her consultation, she has offered guidance through panel sessions and workshops on the topics of equity, the theory of intersectionality in the workplace, talent acquisition and retention strategies, and talent management with organizations such as Portland StateUniversity, Brand Innovators, TimesUp Advertising, PDX Women in Tech,Women's Center for Leadership, PDX Executive HR Forum, and others.In her former life, Tia served as the Director of People Operations at 24/7Laundry Service, a full-service agency with content creation, production, and media buying. Prior to that, she served as an HR Manager at Wieden +Kennedy, an independent, creatively led advertising agency where she helped to transform the agency's HR initiatives and programs. In the earlier years of her HR career, Tia served in the Federal and District of ColumbiaGovernment as a Management Analyst and HR Advisor. And, in her first entrepreneurial endeavor, she served as the Managing Director of The
Sevan Group – an African American woman-owned photography and design studio which she also co-founded.Tia is no stranger at the intersection of blackness, feminism, queerness, and motherhood. Rooted in the community with a desire to progress the lives of African-Americans and women, her community work is through the local Boards of Directors where she has served as an executive or committee member including the Black United Fund, Bitch Media, PortlandWorkforce Alliance, and Jack and Jill of America, Inc. She is also a member of Delta Sigma Theta Sorority, Inc, a service organization.Tia is an honors graduate of Howard University with a BBA in InternationalBusiness and Marketing and an MBA from the University of MarylandUniversity College. She holds the SHRM-Senior Certified ProfessionalCertification and recently contributed to the Career Thought Leaders 10th Annual White Paper revealing the new and next in the careers industry.HR Leader with multiple industry experience including advertising, retail, real estate, non-profit, and Federal and District Government.Strategic business partner committed to creative problem solving.Approachable facilitator of simple dreams and big ideas.Critical analyst of purpose and strategy.Positive catalyst for change and results.
•Employee Engagement
•Organizational Development
•Process & Program Management
•Compliance Management
•Recruitment & Staffing
•Relationship Management
•Policy Development & Implementation
1:40 Children, Co-parent with their Dad, I Get a break
2:50 I serve as a strategic HR partner for various companies
3:48 hr Is a really lonely field to be in because you're making huge decisions about the people (not the money) and how the people affect the money. I serve as a partner to those people where they need assistance, ideas, etc. A lot of NP organizations don't have HR. So I serve for companies and orgs that don't have HR, period...that haven't thought about diversity and equity. It's like getting your house in order, or having a plan. For instance how do people work from home, how are teams and clients supposed to interact – similar to having a plan for the pandemic.
7:15 I see employment as a transaction. The employer is responsible for providing an environment that is conducive for the employees to do the job they've been hired to do. It has to be a safe space, pay has to be fair( needs to be worthwhile for employee)The employee is responsible for giving the best of their talent. My job is to make sure that that transaction stays equal.I've Worked for federal gov, state gov, retail, non profit
9:30 They may not know how to build a cultural organization. They may not have the bandwidth to be creative in the way that they solve their cultural problems or review and revise the equity in their handbook. They may not have the time, or someone to bounce the items off of and that's where I come in.
11:50 Think about a family that is matriarchal and the mother makes sure everything is supposed to do everything they are supposed to do. I serve as the cool Aunty. I'm the one that the mother ( the company) will ask for guidance or come to for help. I'm the Aunty for several different companies.
13:23 I didn't set out to be an HR. I did set out to help people help themselves. All the roles I did before the official HR role, I was helping people take care of themselves. And then I was like ' oh there's job for this'
14:23 Always been surrounded by creatives and people who think big, people who create from nothing and people who solve problems...I've always been their advisor. I took what I already was doing in my personal life and just got paid for it. What do you do well, what do you do with your eyes closed? What is your superpower? Figure out how can you get paid for that?
15:58 I realized what was missing in my life. I realized I needed HR. Who's your HR Tia? Who do you go to when you have an intersection of your personal life and professional life and you need help. So I realized what I needed and thought just maybe other people needed that.
17:32 [self employed] The things that seemed impossible or hard to achieve no longer seem impossible. The only thing that's keeping you from getting to the sky is you. There are no leaders telling you no. It's a go. It's go time and there's nothing in your way. I had to sit with that. As a Black female executive those obstacles are real because people will tell you what you know is not right or that you can't do that. Now those obstacles are no longer there. You have to reprogram your brain. Yes I can.No, there's nothing in the way. I know what I'm talking about. There's no one else here to care whether I'm right. Make the decision, trust it and go with it. That's hard reprogramming when you're no longer someone's employee.
20:10 It's exciting now. It doesn't feel like responsibility. Yes, I have to put food on the table for my kids. But when I was someone's employee every decision felt like life or death. If I make the wrong decision it's my job on the line. Don't have that anymore because I trust myself.
21:47 ( On the Coronavirus) Employees will feel more empowered to do their work. There is a physical removement of all the judgement – how long am I sitting at my desk, is someone looking at me? Am I gonna be looked down upon? I feel like this work from home situation is gonna bring out the best in people because they get to be who they are.
23:50 So that's why people get inspired when they come into WK coming from cubicles or more controlled structured workspace. That's why creatives thrive in that environment because creatives get to make it their own.
24: 00 I was a traveling spouse. He got an opportunity at Nike. I was like let's go. My spirit was being pulled by the city. I would always say thePacific NW is calling me. I didn't know that much about it. Almost 7 years ago.
27:08 You have a pace of life here that is manageable. I came into myself here.It's all about authenticity. So I show up everywhere I go as myself. Because business is built on trust and relationship so authenticity is key