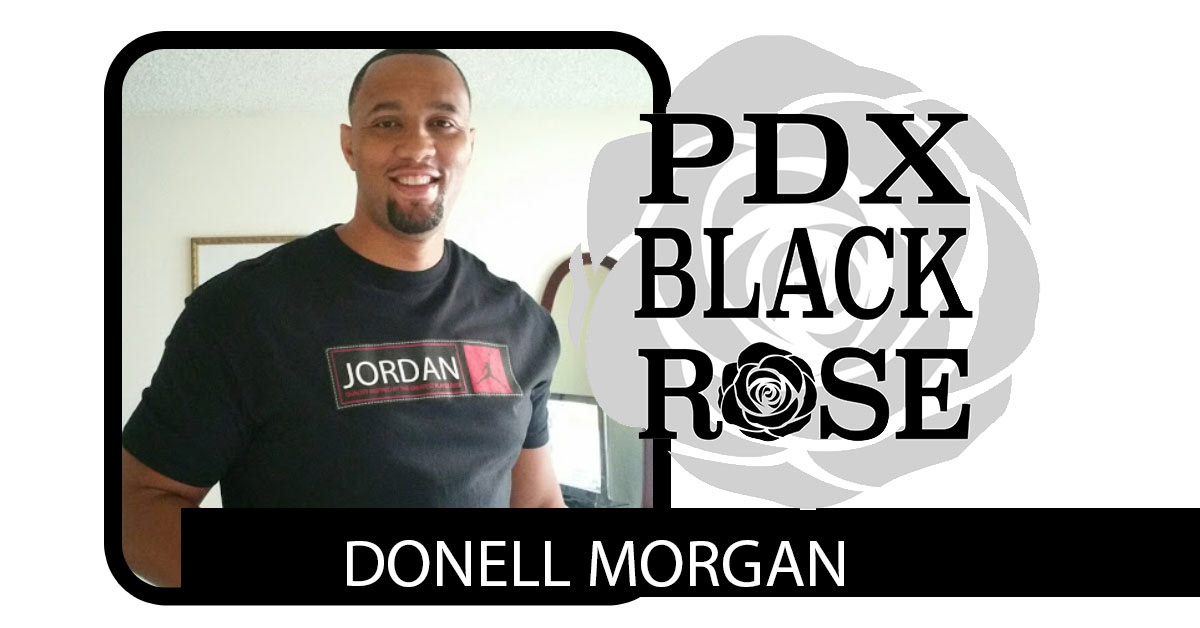 Elevate Oregon is a non-profit organization based in the 
Parkrose School District
 that mentors 6th-12th grade young people in the community. What makes them unique is that they have elective classes within the schools that teach kids about nuanced aspects of life. They bring in leaders from the community to share what they do, and combat many of the disparities seen in the Black community. Any barrier that would hinder success of the students is mediated with a mentor that intervenes so they are more successful in the future. Taking the 
Big Brother, Big Sister
 concept and making it apart of their education rather than an extracurricular, they are meeting kids where the kids are. The goal is to provide stable and consistent role models that the kids in the community need to see to model positive behaviors after. 
Donell is from New Orleans, but his family moved to Tacoma, Washington when he was younger. It was there that he graduated high school and grew a liking to basketball. His efforts led him to Umpqua Community College and later 
Idaho State
 where he earned 
All-Conference honors
 and 
Player of the Year
. Upon graduation, he continued playing internationally for 5 years. He traveled across the world playing the game he loved. 
When he retired, he began working as a juvenile detention center counselor. That is where he really started chiseling his path and interest in helping others. He didn't know where the path would take, but he knew that because he was a professional athlete, kids would look up to him much like he looked up to 
Michael Jordan
 growing up. Donell has always wanted to be 
more than an athlete
 and this was his opportunity to do that. He also got into coaching basketball for two reasons: 1) to make sure kids got a good experience playing in college, and 2) and to be around young people that he could mentor both on the court and off the court. 
Donell landed in Portland in 2012 by way of the Boys and Girls club in Tacoma, Washington after being the head coach of the Boys Basketball team at 
Umpqua Community College
 for 10 years. What drew him to Portland was 
SEI
.  Mentoring was always at the heart of what he did as a basketball player, and he wanted to continue that when he left the game of basketball all together. SEI gave him that opportunity. 
He is creating opportunities for the Black and Brown kids in his community by working directly with them to show that there are people that look like them that are pushing for them to succeed. He is trying to pave a path for future generations regardless of how much time it takes. Donell understands that with Black and Brown kids, patients is a necessity. He sees the value in being a stable pillar for these kids because there are often cards stacked against them that are waiting for them to fail. When they do fail, he doesn't want them to fall on their face forever. He is that safety net that allows those kids to pull themselves up from their fall to continue pushing. 
His experience in Portland has been a blessing. He has been able to succeed in connecting and inspiring people through his work and mission. Did he initially have this plan? No, but the fact that people are thinking beyond being an athlete and a stereotype is a testament to the great work he is doing. He leads by example. Donell will tell you that there are no tricks or magic to it. It is just about doing the work. He is not the guy to turn the key of the opportunity door. He is the guy to give the key to the opportunity door.