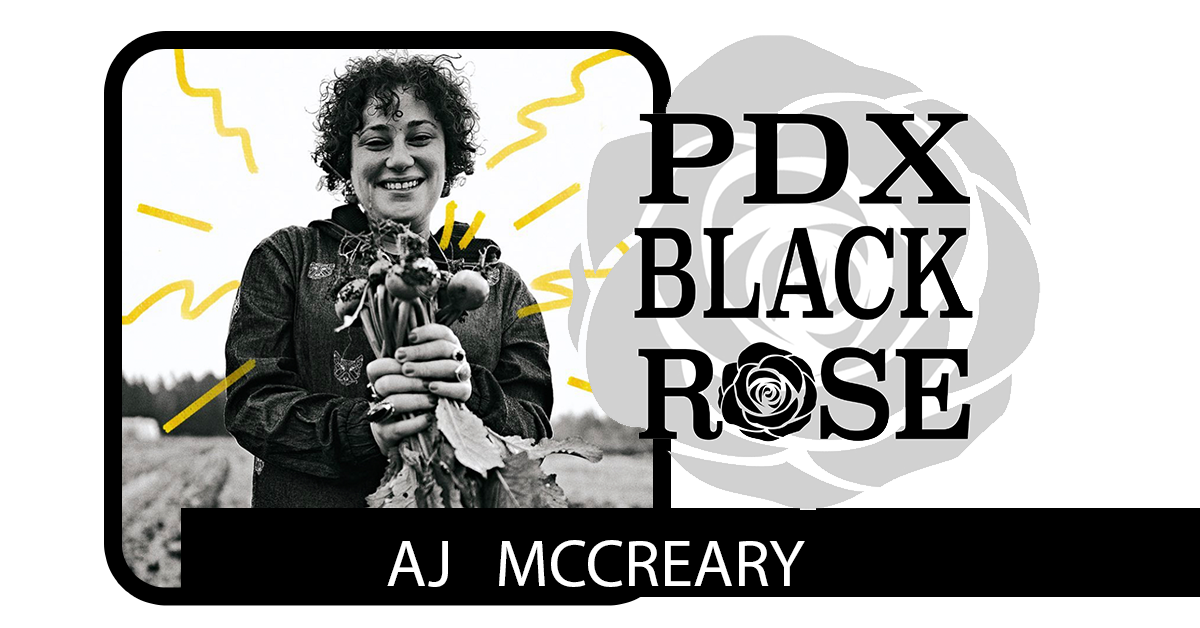 AJ McCreary (@equitablegivingcircle ) joins us on the PDX Black Rose Podcast. Aj is on the founding team as well as the executive director of the Equittable Giving Circle, an organization formed to address glaring inequities created by years of institutional bias, discriminatory policy and systematic divestment from BIPOC communities through authentic community engagement. AJ also has her hands in cannabis work, the creative arts, and marketing and development. 
3:17-3:40 "Myself and a group of women and fems kind of pre –pandemic had been holding space and having conversations about the idea of creating a giving circle and we were really loosely talking about rolling out some programming for fall of 2020 and then the pandemic hit." 
9:15-9:35 "Through December we were serving at the height 525 families and we've had a pretty good graduation rate so, we've seen a lot of families actually be able to take the money that they're saving on food service and be able to do really great things for them as a household." 
17:10-17:29 "As shitty as things are right now, we're at this incredible pivot, right? So many incredible things are happening and I'm really fascinated to see how the momentum will continue." 
Inspiration and Motivation: 
4:07-4:30 "And also really resonating with the work of Booker T Watley who is the Black man who studied and worked out of Tuskegee University who coined the idea of the CSA, which is Community Supported Agriculture. It's really just the idea of essentially having city folks come help on the farm for a day or two and they get produce." 
7:48-8:11 "Our entire leadership team, we all kind of think from a mindset of having to tap into these kinds of services because we've all needed help in one way or another so, we try to really think through that (lens) like what would we need when we were needing these kinds of services, like what would be the best thing for us? And to be mindful of that." 
23:39-23:52 "It's really fun to share things with folks especially food that would either be often times out of our budget or just special or interesting to try" 
30:37-30:55 "I get really excited about just across the board being able to help us relearn and reengage in the way that we experience resources because this earth, we have enough for everybody." 
37:41-38:05 "One of my favorite things is when people know that they're going to have access to food, how that changes, like it's a moment to breathe. Food is going to be here; I don't have to stress or worry about that. Food is a basic need, it's critical." 
6:56-7:25 "Home delivery was really important to us as a whole group because 1, we serve Black and brown folks, we want our community not to have to be worrying about public transportation. Having to worry about lugging 50-20 lb. box of food across town and we serve a lot of vulnerable folks. Elderly folks, folks with disabilities, single parents with small children and people that work, right?" 
8:33-8:49 "And we're really, really respectful if you know, you're a Halal family you're getting Halal meet, if you're vegan you're getting vegan items, if you're a no pork household you don't get pork products. Trying to be really mindful of that for folks because a lot of food services are not." 
9:53-10:11 "DeeDee Hopkins our CSA director is really, really great about getting coffee, beautiful teas, spices, and all of the things that make cooking fun because a lot of the time if you're needing to access food service you don't get the gourmet things or the fun things or the special stuff." 
22:43-23:04 "If you are needing services, we have to do it in a way that you don't feel less than and that you're getting services based off of that we care. We get up and do this work because we genuinely care about our community. We get really excited about how we're going to show up." 
26:57-27:48 "It feels different for something to show up and be a day or two expired, you know? It's leftovers, it feels different. I do know that culturally we're not really excited about that." 
Food is an Important Part of our Culture: 
21:08- 40"We're a group that was very much raised by community in different ways and I think that really fuels the energy to make things happen. We're all very invested in the future whether it's through us having kids or being teachers or being aunties what have you but very invested in a different experience." 
28:45-29:27 "I want to expose and help relearn and reconnect that we deserve the best. For generations Black and brown people have been getting the short end of every stick, been oppressed on purpose, starved of resources, overlooked and abused, and a whole bunch of other things have happened. So, we have been conditioned to be okay with second best or leftovers or this will work because it's something." 
29:36-29:55 "As I've gotten older and have gotten to experience luxury, being well taken care of, or having access points, these are experiences our community deserves every single day at every single intersection. It can't just be that some people get access to nice stuff and other people do not." 
33:54-34:25 "So much of our culture is around food so access to food that resonates with us, is nutritious, and that we like and that is exciting is a really important part in reclaiming culture. Just even the relationship with food, that It can be celebratory and that it should be an experience." 
35:35- 35:59  "Food really being an experience and being an opportunity to break bread and to be paused from all of the chaos is so incredible. I hope that in this work and other work that is happening, we can keep changing and reestablish our relationship with food in a healthy way." 
What are you the most excited about going into the holiday season? 
1:06:40-1:07:06 "I'm really interested in reclaiming celebration and community rituals and honoring traditions and not just traditions that are rooted in capitalism. I struggled with some Juneteenth events being centered around commerce, I struggle with birthdays just being hyper focused around presents" 
20:40-21:04 "Our understanding of both systems, we are a team of let's get shit done, that's all of our vibes. If there's a will there's a way. I think we've heard 'no' so many times and I think we're all fed up with that which really fuels problem solving"  
45:15-45:53 "The wealth hoarding within the philanthropic community is really disturbing, it's not ethical at all. It doesn't really make sense if your whole organization is to fund good work, how are you sitting on a billion dollars? How is it that your expenses are 50 million dollars a year but you only give out 40 million dollars a year? Shouldn't you fund more work than having expenses?" 
49:29-49:43 "I think we have to talk about what this industry really is and what is actually happening more. I would not recommend people getting into nonprofit work unless they really have a plan of how it's going to be funded." 
1:00:33-1:00:45  "We got to start building in a way that is very much more intentional about building for the community, building for long term, building in a way that can be passed on so that somebody else doesn't have to start from scratch."