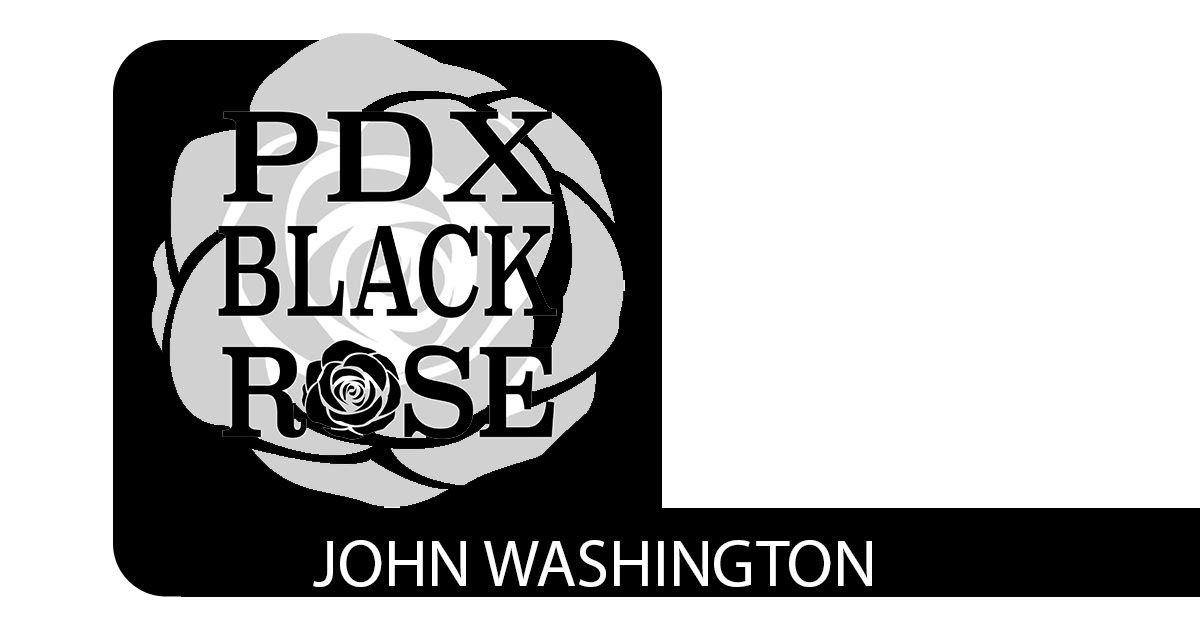 For the first episode of the Black Rose PDX Podcast, we were honored with the presence of
John Washington
. John is the CEO and Editor-in-chief of
Flossin Media
, and the Chair of the
Soul District Business Association
. On top of that, John also spearheads many initiatives in North/Northeast Portland that directly impact and empower the community. During the podcast, we dive deep into how John came to be such an influential figure.
John's story begins in New Jersey. He also spent time in Georgia and Texas as he visits family. He was one of 8 children. His close ties to his large family gave him the opportunity to connect with his roots and family history over the years.
Football was introduced to him at a young age to escape the violence in the world. His home life was compromised by the realities of growing up subjected to the plight of the black experience. Football provided an outlet to channel the frustrations of his experiences throughout the years. Though there were negatives to giving into the violence to improve his condition, he appreciates the path he took because it took him to a place of love despite the obvious reality that the path could have led to self-destruction like it has for many others in similar situations.
At the end of his football career, he passed through Oregon towards California. The idea of leaving the big city for the not quite rural, but underdeveloped Oregon landscape created an apprehension of the possible presence of a "boogie man" in the woods most black people are quite aware of. Yet, the memory of how beautiful Oregon was stood with him.
He later acquired some land that gave him a reason to come after life changes happened. With a boat, pick-up truck, and land in hand, his pacific northwest adventure began. The new and unfamiliar area gave him the opportunity to find out who he was as a person and not just an ex-athlete.
Mind you, there were no Black people around, so John would commute from Marion County to Portland for frequent doses of culture: barbershops, soul food, etc. Being a retired professional athlete afforded him particular freedoms as a Black man to travel and exist. In the area he currently lived, he stood out like a sore thumb. Especially because his financial freedom was earned through legitimate means rather than nefarious activities. As a result, he earned a level of local celebrity.
During his transition to regular life, he found a calling to help at risk youth. Given certain institutions, he began to raise 25 kids for the state of Oregon. His drive to attain and promote education magnified with his drive to improve his situation and the situations of others. This journey of self-reflections resulted in him noticing that without intentional investment in his people, it is difficult to combat neglect from traditional institutions. "The seed you plant today is the fruit you harvest in 90 days," he explains, and continues by saying, "we have to be available to the people around us." Being available was exactly what he did. Through a series of events, he was connected to the late Joyce Taylor, a staple in the Soul District, that needed help keeping the Soul District Business Association together. With his reverence for her vision and passion, he rolled up his sleeves to give her support and assistance. He became a passive listener. He saw the landscape in which people were navigating. He saw the discrimination. He saw how he could use his privilege to make a difference, and that led to him becoming the Vice Chair of the Soul District, and ultimately the Chair. In his position, he takes pride in bringing together the community to tackle many of the obstacles plaguing Portland's Black community.
Listen to the podcast as we dive deep into the full story. From his childhood growing up in on the east coast, to finding athletics, to retiring and philanthropy, John Washington takes us on a rollercoaster ride of many of the highs and lows of his life. This action packed 1.5 hour long interview will exhilarate your morning and give you a greater desire to continue building a legacy for yourself.
Key Links:

Follow us on Social Media @PDXBlackRose